On behalf of the SMOs, thank you to all volunteers (across the ministries and ages) for sparing your time to help open the church for the rest of the Parish. Your individual effort and diligence are much appreciated to maintain the safety of the church, and to bring the Body of Christ back to life too. May God bless you all abundantly!
Therefore encourage one another and build up each other, as indeed you are doing.

(1 Thessalonians 5:11)
Indeed, the body does not consist of one member but of many.

(1 Corinthians 12:14)
Nothing great is ever achieved without enduring much.

(St. Catherine of Siena)
We cannot all do great things, but we can do small things with great love

(St. Teresa of Calcutta)
Be who God meant you to be and you will set the world on fire!

(St Catherine of Siena)
The world offers you comfort, but you were not made for comfort. You were made for greatness.

(Pope Benedict XVI)
From Our Parishioners
Thank you for making us able to attend mass again! We really appreciate your hard work!
Thank you to all volunteers for all your efforts in keeping the masses, private worship and confession. God bless you all
Peace bros & sis! Thank you for volunteering your time and heart to help out in the parish during this COVID period. Heartiest appreciation! Let's continue to tide through this together!
Thank you for your tireless and sincere work for the church!
Dear Volunteers, your dedication and relentless effort and time spent for the Church and her congregation is very much appreciated. Thank you from the bottom of my heart.

I would like to give Michael Lee a special mention for his hard work and dedication.

A special and heartfelt thank you to Michael Lee, who is extremely dedicated and committed as a true servant of our Parish. May God continue to bless him and fortify him in his calling.
And now faith, hope, and love abide, these three; and the greatest of these is love.

(1 Corinthians 13:13)
BIG thank you to SMOs and Media Team!!! It must be a steep learning curve for your guys as the situation keeps changing … kudos to your hard work and willingness to take up the challenges with so much dedication!

St. Anthony is one of the few local churches that broadcast live masses. Thanks to SMO and various media volunteers for their efforts to achieve this goal. I also want to thank everyone who volunteered to coordinate mass celebrations every weekend. These are all efforts to promote the connection between the parishioners and the church.
Thank you for all your love and sacrifices to keep the church safe. God loves and bless you all abundantly!
Thanks you for all the works you have done to reach out to fellow parishioners. Keep it up and May God bless you all.
Thank you everyone for serving the Church and taking care of the parish during this difficult COVID19 season. Even though currently I am unable to attend the Church physically, I can feel everyone's efforts and hard work just from the monitor screen itself, when I watched weekly sermons. I would like to share this bible verse Psalms 29:11: "The Lord gives strength to His people; the Lord blessed His people with peace." I hope that everyone finds strength after reading this verse, and continue serving 🙂 In Jesus name, Amen.
You are all doing an excellent job. Thank you for all the efforts. More blessings to everyone.
May the Lord protect and grant everlasting fervour to all the volunteers of our Parish and also to Fr Iggy for his undying love, serving our Mother church for the Glory of God.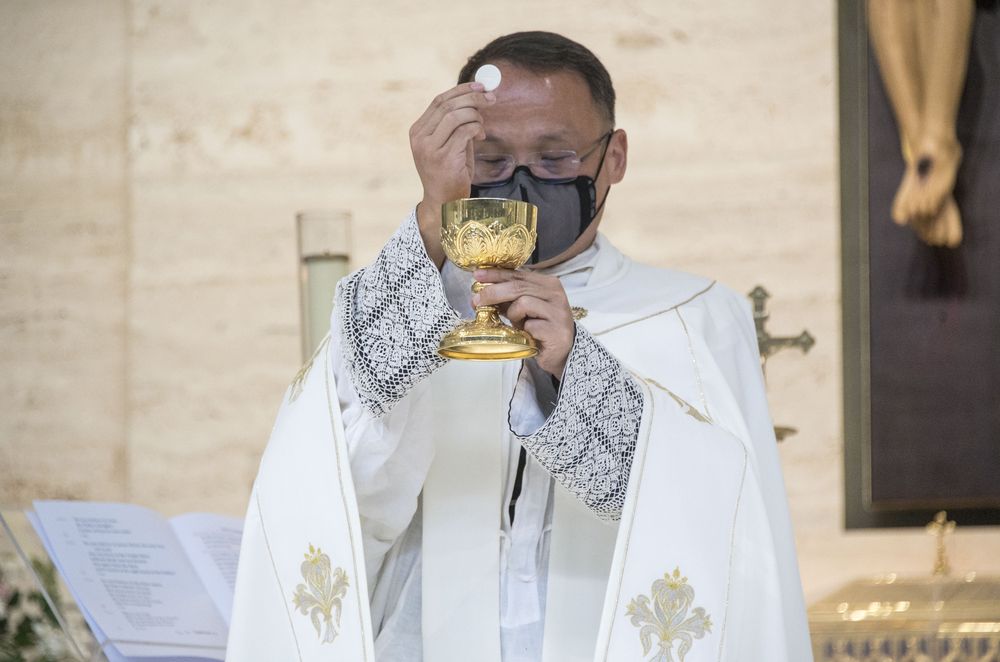 If we live, we live to the Lord, and if we die, we die to the Lord; so then, whether we live or whether we die, we are the Lord's. For to this end Christ died and lived again, so that he might be Lord of both the dead and the living.

(Romans 14:8-9)