"My Lord and my God"  Jn 20:28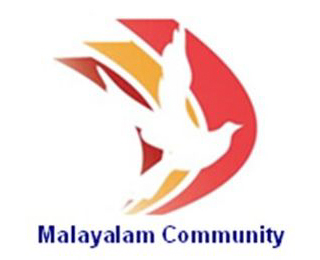 The three different colours of flames represent members from the three major rites of the Malayalam Community – Syro-Malabar Rite , Latin Rite, Syro-Malankara Rite – integrated and led by the Holy Spirit to move in one direction to establish God's Kingdom on Earth.
The Malayalam Community originates from the state of Kerala in the south of India, with Malayalam as its first language.
The evolution of the Catholic Church in India as a whole has been strongly influenced by historical forces. The origin of Christianity in Kerala is attributed to the arrival of St. Thomas the Apostle in the region in the year 52 AD. St. Thomas helps us to think seriously about our evangelization mission in the present circumstances where the universal church is stressing new evangelization processes.
Our Core Values:
Humility – Humble ourselves before God and Man. Serve all with love, irrespective of race or religion.
Charity – Share our material and spiritual gifts with our brothers and sisters in our neighbourhoods and in our community.
Compassion – Express love, care, kindness, empathy & sympathy to our brothers and sisters in our neighbourhoods and in our community.
Integrity – Commitment to be used as builders of God's Kingdom.
To be a caring community united in faith, witnessing Christ's message of love in our lives.
To engage the Catholic Malayalam community in spiritual formations, family services, Malayalam Prayer gathering, and celebrations as well as participating in all church activities jointly with other ministries of the parish.
Prayer Gatherings Every 4th Saturday of the month – the meeting starts with praise and worship session and ends as a social gathering enjoyable for children and adults once a month
Stations of the Cross in Malayalam On every Friday during lent after evening Eucharistic celebration
Rosary Month We have daily Rosary in the month of October at our member's homes. For member's convenience, rosary clusters have been formed according to the zone. The whole community gathers in the Church on the last Sunday of the month and a candlelight rosary will be recited with a procession
Annual Cultural Event Onam Celebration –Onam is a harvest festival and is celebrated with joy and enthusiasm by people of all Malayalam speaking communities. At St. Anthony this celebration invitation goes out to parish priests and all other ministries.
Family Outing We also organize family outing and games once a year
There are no calendars to share at this time.
The community is looked after by a small committee of five persons:
Chairperson
Vice Chairperson
Secretary
Treasurer
Event Coordinator
Meetings are held every fourth Saturday of the month, after our monthly prayer gathering.
Members are provided with updates and follow ups regarding the ministry and also from the Events Keystone and the Church's EXCO.
To join the community, apart from being Malayalam speaking parishioners of the Church of Saint Anthony, prospective members should not be in an irregular marriage.
Support Services & Request For Support
We provide support services to the Malayalam speaking parishioners and for the Events Keystone and the Church's EXCO. Please contact us thru email @ malayalamcom@saint-anthony.org
There are no forms available at the moment.