Society of St Vincent De Paul
"It is more blessed to give than to receive" – Acts 20:35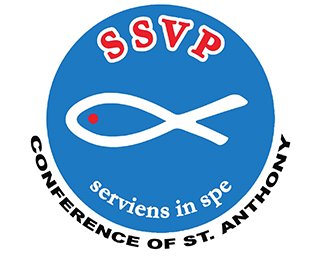 The fish is the symbol of Christianity and represents the Society of Saint Vincent de Paul. The eye of the fish is the vigilant eye of God seeking to help the poor in our midst. The crossing at the tail or the tie-knot represents unity and oneness among members and also the union with the poor. The circle bounding the logo signifies the global or worldwide stature of the SSVP, an international Society. The words serviens in spe mean to serve in hope, the hope that comes from Our Lord Jesus Christ.
(from https://www.ssvp.ca/mission-values-logo)
The Society Of St. Vincent De Paul traces its roots to France. Frederic Ozanam was challenged by non-believers to show his works. This sparked an intense desire within Frederic to help the less fortunate. In 1833, he became the principle founder of the Society to serve the poor people of Paris. More than 200 years on, the SSVP has a presence in 148 countries with 780,000 members and has served over 30 million poor and needy. It is one of most well-known Catholic apostolate of Charity Worldwide and accredited by the United Nations as an International Non-Government Organisation. The Singapore Chapter was founded in the early sixties by the late Monsignor Berthold and philanthropist Dr. Ee Peng Liang. Today the SSVP has more than 700 members supporting over 3000 Friends In Need across 30 parishes in Singapore.
To live the gospel message by serving Christ in the poor with love, respect, justice, hope and joy, and by working to shape a more just and compassionate society.
Our Motto is "Serviens in Spe" which means "Service In Hope"
The Vincentian way of life is centered on four principles:
Ministry: Serving the Poor and Needy
Fellowship: Journeying with others toward a wholesome Christian life and greater intimacy with God.
Spirituality: Nurturing one's spirituality and that of others.
Evangelisation: Giving others the opportunity to imbibe the Vincentian way of life.
The SSVP reaches out to all those in need (Friends-in-Need or FINS) on a Person to Person basis, regardless of their faith, race or stature. We lend a helping hand through:
Home Visits to provide fellowship and companionship
Financial assistance
Outings and Christmas Parties
Advocate and referrals to government agencies and other assistance groups.
Supporting Catholic Aged Homes and Hospices
Besides our monthly ration distribution and weekly Visitation of our FINS' Home, we also:
Bring our FINS to seek assistance from government agencies.
Invite our non-catholic FINS to mass.
Involve our FINS in our canteen duty.
Visit residents at Nursing Homes.
Work hard and play too and we love bonding over food.
There are no calendars to share at this point.
SVDP is managed by 5-6 office bearers namely:
President
Vice-president (2)
Secretary
Treasurer
Administrator
We have our meetings every 1st and 3rd Mondays of the month at 8.00 PM. The Vincentian Family is a close-knit community and we get together for activities such as
Spiritual Retreats
Vincentian fellowship activities
Feast Day Celebrations
New members of SVDP will be observers for the first few months.
Support Services & Request For Support
For those who need assistance from us, please contact the Parish Office or send us an email at svdp@saint-anthony.org
There are no forms available at this time.