Formed Subscription at the Parish Level
A Gift for You!
A gift for you and everyone in your family: good Catholic media all in one place!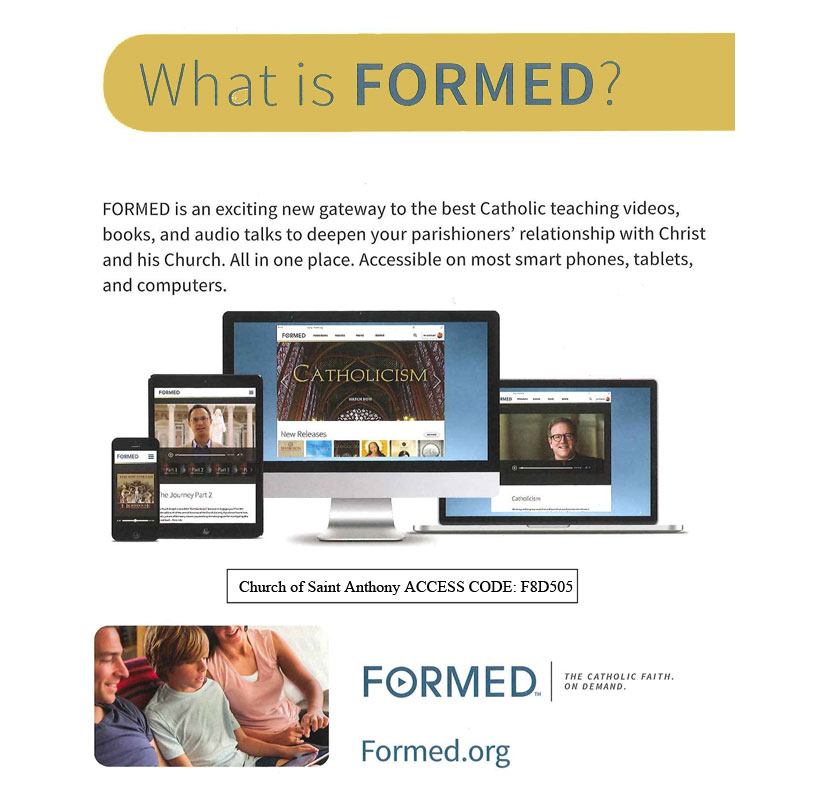 Formed is like a Catholic Netflix
Formed.org is an online media library with a wide range of material for any age group.
Programs – sacraments, bible studies, faith formation, current topics, youth programs
Movies – movie night, kids, documentaries, modern day saints, saints of history, men & women of faith, life & witness of Mary, devotional, apologetics
Audio – audio dramas, audio books, being Catholic, explore the faith, share the faith
Books – fiction, kids & teens, being catholic, explore the faith
There is also a Formed.org App which means you have access while on the go such as during your daily commute.
Formed.org is a revolutionary online platform that partners with Augustine Institute, St Paul Centre, Marian Fathers, Lighthouse Catholic Media, Ignatius Press and Word on Fire.
Parishioners of the Church of St Anthony, Singapore may sign-up for access to formed.org's vast library without cost by selecting the Church of St Anthony Singapore during the Sign-Up process (see below). Access to our formed.org account is for Church of St Anthony's parishioners only. Parishioners of other churches should contact their Parish Office for access (if any).
How to register for a Formed Account
Registering for a Formed.org account
(The registration process  as of May 2022)
Visit formed.org and click SIGN UP
Click on the option: Sign up as a parishioner
Under Find your Parish or Organization, enter "Church of St Anthony Singapore" and select Church of St Anthony at 25 Woodlands Ave 1 Singapore in the drop down lost.
Click Next
Enter your name and email and click Sign-up. Be sure to check that your email address was entered correctly.
Check your email for a conformation from formed.org and use the link in that email to log in.
If you did not receive the email from Formed, please check you SPAM folder.
To Log-in to formed.org
Visit formed.org and click on SIGN-IN
Check your email to complete logging in. Formed.org does not use passwords but an email link instead.